New from Ruth Yaron!

Super Baby Food Cookbook
The demand by fans for a full color cookbook featuring favorite Super Baby Food recipes was heard loud and clear. This gorgeous full color cookbook is now available. Get your copy on our website, SuperBabyStore, and other outlets, such as Amazon.com. Follow Ruth on Facebook, Twitter, and Instagram for your chance to win a copy of Ruth's brand new release!
152 pages w/fully illustrated recipes   •   Retail Price: $19.95 hardcover
ISBN: 978-0-9963000-2-5
Nutritious, delicious and easy to follow recipes that include favorite ingredients, as well as "healthy extras" such as kelp, brewers yeast, tahini, coconut oil, cinnamon, and many more.
Super Baby Food recipes come to life, from the simplest Avocado Smash to the infamous "Super Porridge."
Purée recipes that include baby favorites: sweet potatoes, carrots, and pears just to name a few
Easy, delicious breakfast recipes for baby and toddler including: Cinnamon Oatmeal, Eggie in the Middle, French Toast Sticks, Whole Grain Pancakes, and Easy Granola.
Healthy, delicious meal recipes for older baby and toddler including: Easy Mac & Cheese, Tofu Lasagna, Mr. & Mrs. Sweet Potato Heads, and Avocado Soy Patties.
Nutritious desserts including: Mock Ice Cream, Creamy Green Yogurt Smoothie, Coconut Milk Chia Seed Pudding, and Homemade Ice Cream Sandwiches.
Ready for finger foods? There are some great snack recipes: Apple Smiley Face, Quick Bread Sticks, and Avocado Cube Salad.
A bonus of "healthy extra" tips and how to use them in recipes, including chia seeds, wheat germ sprinkles, hemp seeds, flax seeds, and more so that every bite counts.
---
SuperBaby Food Pouch Recipes and Tips Book
Super Easy, Nutritious and Delicious Recipes for Food Pouches for Babies, Toddlers, Older Children and Even Adults. Here is just some of the information found in Ruth's Pouch book:
– How food pouches can be used while your baby transitions to solid foods
– How you can use pouches during each of the three solid food stages
– Pouch recipes specifically designed for your baby during each stage
– How to easily create whole, balanced meals in pouches – Meals-in-a-Pouch
– The amount of food your baby and toddler may eat each day
– How to safely clean and disinfect pouches, their spouts, and their caps
– How to safely refrigerate, freeze, and thaw food pouches
– Tips on keeping pouches organized in your freezer with items you already own
– How to safely fill pouches with commercially-bought food and still save money
– Tips about how to prevent picky eating
– How to get a variety of whole foods into your child's diet by using pouches
– How to easily get whole grains into your child's diet by using pouches
– How to add probiotics and phytonutrients into your child's diet by using pouches
– 1st edition, published April 2015, 168 pages
Now available at Amazon:

---
Super Baby Food – the Original!
Super Baby Food is the best-selling baby food book of all time!
The Recently Revised and Updated 3rd Edition Has Already Sold Tens of Thousands of Copies!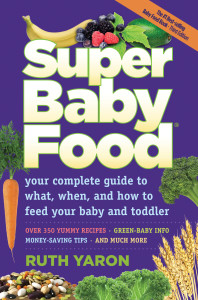 Absolutely everything you need to know about feeding your baby during the first three years of life! With over half a million copies already in the hands of savvy parents, Super Baby Food by Ruth Yaron provides a complete baby food preparation system and go-to food reference manual.

The most up-to-date, medically and nutritionally sound information on what and when to feed babies and toddlers.
Comprehensive lists of fruits and vegetables, including cooking instructions and nutritional values, plus easy baby food storage and freezing tips.
Over 350 money-saving, easy-to-make recipes, for your baby's very first meal through toddlerhood and beyond!
Feeding schedule templates and worksheets, making it easy to feed your baby an organic, healthy, and balanced diet.
Important information about food allergies that every parent needs to know before introducing solid foods.
What to expect when your baby starts finger-feeding, drinking from a cup and self-feeding with a spoon and fork.
Ideas for easily adding nutrition to an everyday meal by including Healthy Extras like kelp, tahini, and nutritional yeast (among others) so that every bite counts.
Hundreds of economical and timesaving childcare and kitchen safety tips, including ways to keep your baby safe and happy while traveling
Everything you ever wanted to know to "go green" in your home including selecting and finding organic foods, creating homemade household products and homemade baby products, tips for recycling, and much more.
Invaluable resources and tips to find organic foods and other natural baby products, and connect online with the ever-growing Super Baby Food Community.
3rd edition, published September 2014, 672 pages
Available at Amazon: